Settling in Cedar City
I arrived in Cedar City, UT back on March 21st and enjoyed some scenic views along the way. I chose Cedar City because of its close location to many parks including an hour drive to Zion National Park and an hour and a half to Bryce Canyon National Park.
St. George, UT was my first choice because it has more to offer but I found a great Airbnb option here! Cedar City is a small college town but it has your commercial staples like Walmart, Chili's, Dairy Queen and more. I have learned the area quite well (it didn't take very long) and found some local conveniences and regional dining options as well. My first week in Utah was spent working (my full-time retouching and design gig with Pilot Imaging), editing travel images, blog writing and SLEEPING. By the time the weekend rolled around, I was anxious to get out and adventure!
* * *
Friday afternoon I met up with fellow photographer, Chuck Fazio, the artist-in-residence for American Forests, the nation's oldest conservation organization. I got to tour the "Chuckwagon", his photo tour RV, and join him while filming with his drones outside of Zion.
After some catch-up time and shop talk I headed down to St.George, to Snow Canyon State Park, which recommended by a local to Chuck who passed along the suggestion to me. I arrived in Snow Canyon just before sunset. It's too bad my annual Interagency Pass doesn't work for state parks but they did give me a $2 discount since the day was coming to an end.
The ranger at the fee station recommended I go to the Petrified Sand Dunes for sunset, so that's what I did! Snow canyon was very diverse, filled with different mountain formations, sand dunes, sandstone, volcanic rock and more. I walked up the sloped petrified dunes made of red sand and explored around me. The sunset was not great but the evening light was amazing!
* * *
The next day I rose painfully early in Cedar City and made the hour drive to Zion National Park before sunrise. I had read that the Canyon Overlook was a great place to photograph sunrise so that's where I was heading. I, however, had a lot of trouble finding the trailhead in the dark. After looking at the map for the 4th time and driving back and forth along the road I figured out that the parking was right after the tunnel. I missed it the first time around because there is no sign near the parking area, just at the trailhead a couple hundred feet away. At this point, I was running late and it was already becoming light, so after hiking a while I found a spot that looked good and decided to shoot there rather than continuing to the end of the trail. The spot I chose ended up working out pretty well!
After sunrise the crowds started to file in. Easter weekend is an extremely busy weekend in Zion. I drove around Zion - Mount Carmel Highway and photographed a little. The other section of the park is only accessible by shuttle but all of the parking at the visitor center and nearby was full. So, I left the park and headed over to Kolob Terrace Road, another route that passes through part of the park and is nearly void of tourists.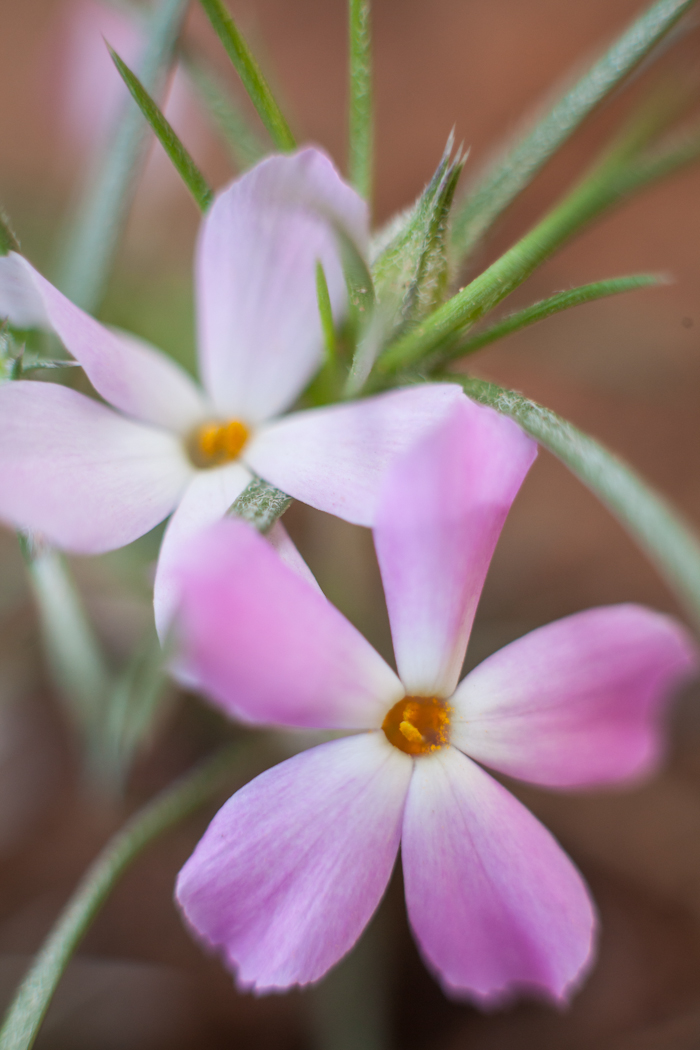 After driving around and photographing for a bit my eyes started getting very heavy on me and the effects of a the early morning were setting in. I pulled over by a nice view and took a nap in my car with the radio on, windows down and cross breeze blowing.
Once I woke from my power nap, I drove further up Kolob Terrace Rd and was taken off guard by snow-packed sections with just two tire grooves to drive through. It amazes me how quickly the landscape changes from sandstone and blooming desert flowers to snow covered mountains and aspen trees. I went a bit further but as the road conditions worsened, I turned back and called it a day.
* * *
On Sunday I woke again and went to Zion for sunrise. This time, I knew exactly where I was heading. Sort of… I started the hike to the overlook with my flashlight in hand, passed the spot I had photographed from the morning before and then somehow, I lost the trail. I followed footprints and realized I was starting to hike back down instead of up, which didn't seem right, and then I finally came to a dead end with a large tree blocking my way. So, I backtracked and waited for people to come by. I had seen another car parking when I was hiking up so I knew it would only be a matter of time before people came my way. Once they did, I asked if I could tag along with them to the end of the trail and finally made it to the overlook!
After sunrise, I found parking at the visitor center and hitched a ride on the shuttle down Zion Scenic Drive that follows the Virgin River. I jumped off the shuttle in a few locations to photograph and then took it to the end, to the Temple of Sinawava and the Riverside Walk. I walked and photographed up until the Narrows begin and then headed back for lunch, looking forward to my return another day to hike the Narrows.
I ate and relaxed over a nice lunch at Oscar's Cafe in Springdale, UT and then spent a few hours, during the harsh mid-day sun, across the street at Deep Creek Coffee Company working on images. I headed back into the park for some evening light and sunset. I walked along the river towards The Watchman photographing the rapids and a precious wading deer.
I had the pleasure of meeting and enjoying a nice conversation with a kindred spirit - a man in his 60's. This man had been solo traveling, car camping and backpacking non-stop through many parks since the beginning of March with no plans of stopping for the next several months. He said he wouldn't have two pennies to rub together upon his return and had nothing to his name, but it was worth it - living a free and adventurous life as much as he could. He would then return back to work until he could save up enough money to "retire again". We shared stories of photography, different parks and treacherous roads and then we each went our way. I didn't even catch his name, but that afternoon he became a hero of sorts to me.
After waiting and waiting for the sky to change with the sun now hidden behind a mountain, I gave up assuming the cloud cover was too strong for a good sunset. Of course, as soon as I jumped back on the shuttle, I see the light peeking through and hitting the mountains and the colors of the clouds starting to change. I got off at the next stop at the Zion Human History Museum and photographed sunset there. The sky changed so quickly and dramatically.
I was lucky to end up where I did for sunset because I was away from the line of photographers standing shoulder to shoulder on the bridge overlooking the river and was able to capture something a little more unique. I was also lucky to have a view of the West Temple formation that sits behind the museum, because above, the sky appeared to light-up with flames. I still plan to go and photograph sunset from the iconic bridge location but I was so happy to have an amazing location and view all to myself for this one!
What a wonderful first weekend of my Cedar City stay! I could not have asked for more.