Moab - "The Adventure Never Ends"
Arches National Park
Waking up to shoot sunrise for the first time on my trip was painful. I had been starting my regular work at 6am for Pilot Imaging while I was in Denver, so I could take the late afternoons and evenings to explore, but for that all I had to do was crawl out of bed and over to my makeshift office. To shoot the sunrise in Arches National Park, my goal was to arrive in the park by 6am, which was a half-hour drive away. So, I had to layer up my clothes (it was 70° weather during the day but near freezing at night), gather my gear, pack up the car and stop for coffee and gas, all before 5:30am.
After reading other blogs and photography tips for Moab, I decided to shoot sunrise at the Turret and North Window Arches. When I arrived, one other photographer was getting his gear ready to walk over to the arches and there wasn't another soul around. A few people slowly trickled over to the area and by the time the sun rose the area was filled with photographers, photo enthusiasts and travelers looking to enjoy the sunrise.
Here are some helpful resources for photography (or just where and when to enjoy the best lit views) in Arches National Park:
http://www.discovermoab.com/photo.htm
http://www.outdooreyes.com/photographarches.php3
https://www.nps.gov/arch/planyourvisit/photography.htm (Caution - This link was working the other day but seems to be having trouble while I'm putting this post together. Hopefully they have it back up and running soon.)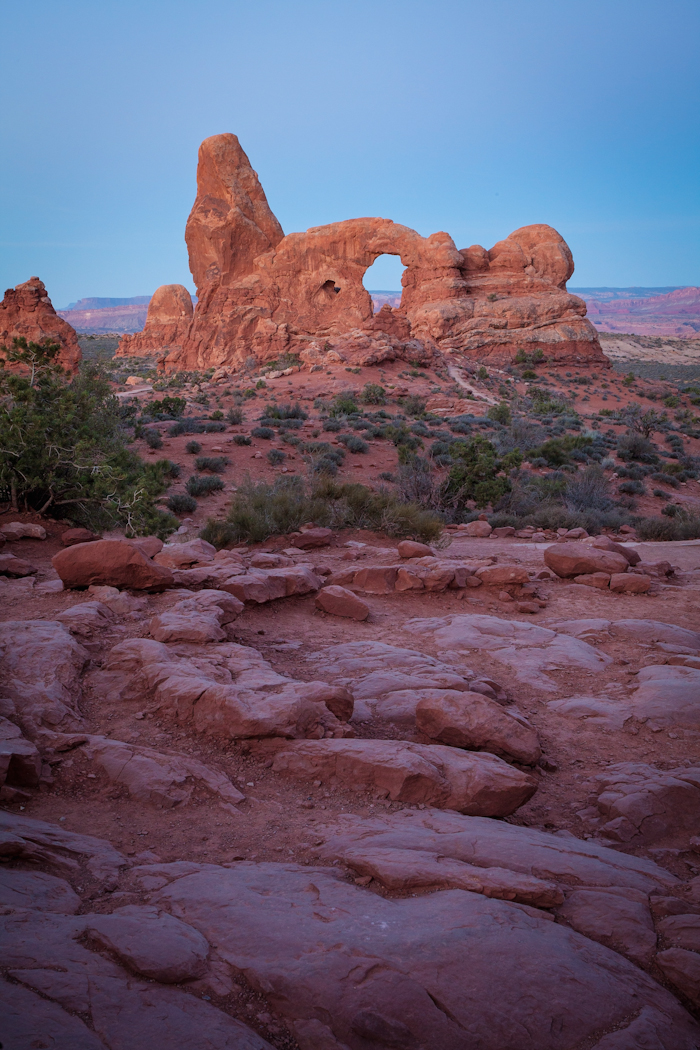 On my first day, I photographed until around 11am, about an hour later than ideal for good lighting, but I chose places where that wouldn't matter as much, particularly Double Arch. After photographing the sunrise, I stopped by Skyline Arch and then hiked to Landscape Arch, capturing some really cool images along the way.
I started including some hikers in my photos to add an element of interest to the somewhat repetitive landscape on my hike to Landscape Arch.
I also played around with the dramatic shadows that were starting to form against ground and massive rocks.
Lastly, I drove back over to where I started in the morning, and took the walk up to Double Arch. Here, I captured the warm colored stone arches against the deep blue sky. I spent some time climbing around and playing with different angles and subject matter.
By the time I was done at Double Arch, I was feeling rather worn-out and ready for some good food! I drove back into downtown Moab, had lunch at Sweet Cravings Bakery and Bistro and worked on some editing and blogging while enjoying a smoothie at Peace Tree Juice Cafe before heading back to the park for sunset.
* * *
When I got back into the park several hours later, I hit the short trail to Sand Dune Arch, stopped to photograph some dramatic scenes along the road, snapped a couple shots of some rock climbers, and scouted the area around Balanced Rock for sunset.
While walking around Balanced Rock, I noticed a painter across the street, up on a rock hill. I walked over to check out the scene for myself and WOW, what a spectacular view! I ran back to my car to grab my tripod and when I returned, another photographer had joined us as well. We all chatted while we took in the scenery, exchanging stories and tips about places we've been.
After dusk, I ran over to another viewpoint I had scoped out in hopes that after the sun had set the sky would light up with color. There were plenty of clouds in the sky! I waited nervously as I didn't have a view of the lower horizon from where I stood. I saw some spectacular colors changing but nothing in view for the images I was planning to compose. Had I misjudged? Should I bail and run to a higher viewpoint? Should I stick to my guns and see what happens? I waited and waited and then finally, the sky filled with bright pinks and purples! Another viewpoint would have shown more of the color-filled sky but I intentionally chose to do something a bit different by adding more interest in the foreground, rather than just capturing a wide-open scene.
After the sunset started to fade, I did run over to a higher viewpoint to capture some different images with what was left of the brilliant colors.
Before calling it a night, I stopped at the visitor center and photographed some night images of the deep blue sky, stars, wispy white clouds and the canyon being illuminated by the cars driving out of the park. Then I met up with an old friend at the Moab Brewing Company; Facebook brought us together in the most random of places! We enjoyed a drink and a bite to eat and then called it an early night since we were both exhausted from the day's adventures.
Canyonlands National Park
In the morning, I rose even earlier to make it to Mesa Arch in Canyonlands National Park by 5:30am. Being used to having a place to myself at that hour, I was shocked when I arrived to a parking lot full of cars at the trailhead. I made my way to the arch and was greeted by a group of photographers and their tripods, all in a row. I lucked out, they had an open space on the end waiting for me to squeeze into. Glad I didn't arrive any later!
If you plan to go to Mesa Arch for sunrise, check out these helpful tips!
https://www.fototripper.com/mesa-arch-canyonlands-photo-guide/
We chatted and played around with some light painting and waited for the sun to rise. We got lucky with some nice colors before the sun peaked out from behind the mountains in the distance, but the clouds diffused the sun as it rose preventing the classic starburst effect except for a brief moment.
I left Mesa Arch and continued my drive through the Island in the Sky district of Canyonlands National Park. The lighting was just amazing! The grasses, trees and bushes were all sparkling with light; the ground and canyon formations glowed orange; the sky was filled with soft clouds and a rich indigo blue.
I left the park and returned to Sweet Cravings, for the second time, to grab lunch. Even though it was a little in the opposite direction, their gluten free paninis were calling my name! Finally, I hit the road and headed towards Cedar City, Utah, already missing Moab...
Moab Shoutouts:
Thank you to my friend, Josh, for meeting up, catching up and bringing a sense of familiarity to my life on the road!
Eddie McStiff's
Decent gluten free knowledge and yummy tacos!
Peace Tree Juice Cafe
Delicious smoothies and a handful of gluten free food options.
http://www.peacetreecafe.com/home.aspx
Sweet Cravings Bakery and Bistro
I cannot rave about this place enough! Such good food, so many gluten free options, conscious and careful about cross contamination.
Moab Brewery
I hear the beer is good! Shockingly, they have a separate gluten free menu! Their margaritas are oversized and tasty!
http://www.themoabbrewery.com/
Tom Till Gallery
If you have an appreciation for art and photography, definitely check out this gallery in downtown Moab. Tom has a wonderful collection of work displayed and for sale!