2 Days, 3 States & Many Adventures
When you have a specific schedule planned, there's no telling what might happen. My plan on this particular weekend was to hit Great Basin National Park in Nevada on Saturday and return to Zion National Park to hike the Narrows on Sunday. Saturday morning I rose at 4:00am to make the 2.5 hour drive from Cedar City, UT to Baker, NV in attempt to make it before sunrise.
The drive was long and dark but there was surprisingly several other cars on the small two-lane roads I drove down. I drove over a few mountains, but to my relief nothing super high in elevation with below freezing temperatures. After driving over a few mountains on the other side of I-15 in Utah with unexpectedly terrible winter weather conditions, the current conditions towards Nevada was something to celebrate.
As the sun rose behind the mountains and the sky started to fill with light I noticed a few bodies of water alongside the road. I finally found a good place to pull over and snapped a few long exposures before rushing on to race the sun.
I stopped once more on the way to capture some colors that started to fill the sky. I found a nice spot by a large field, in a sparse, small town, to take a couple of pictures. I wanted to make sure I at least caught some of the sunrise. It appeared the sun was surely going to beat me to Great Basin, but I was finally over the Nevada border.
I arrived in Baker, NV just as the sun was getting ready to crest over the distant mountains and found a spot to pull over at an agricultural exhibit just outside the park entrance. The scene wasn't perfect but it provided an opportunity to catch the magic of the first morning light from a few different angles.
After sunrise, I entered the park and turned onto Wheeler Peak Scenic Drive, which sounded like a good direction to head. I was immediately greeted by wild turkeys; first one, then two, and the next thing I knew there was about ten or more of them gobbling and grazing away. I stopped the car in the middle of the road since there was no one around, changed lenses and had a field day. After I had covered enough of the scene and they had had enough of me, I drove on. About a mile down the road I found the scenic drive was still closed for the "winter", something I'm not used to having to deal with in early April.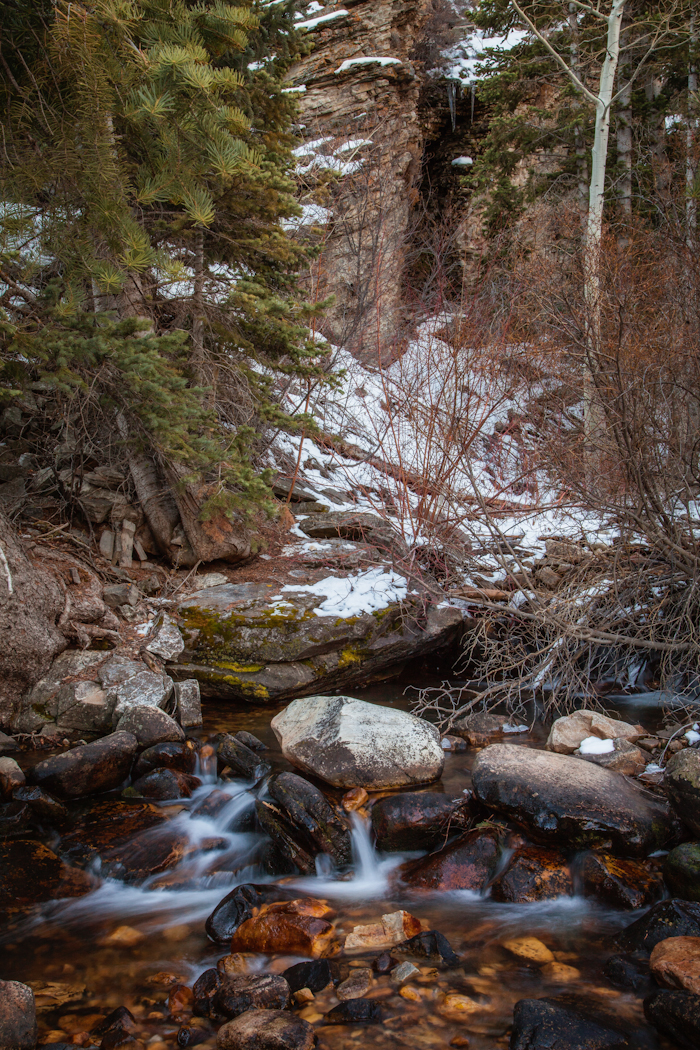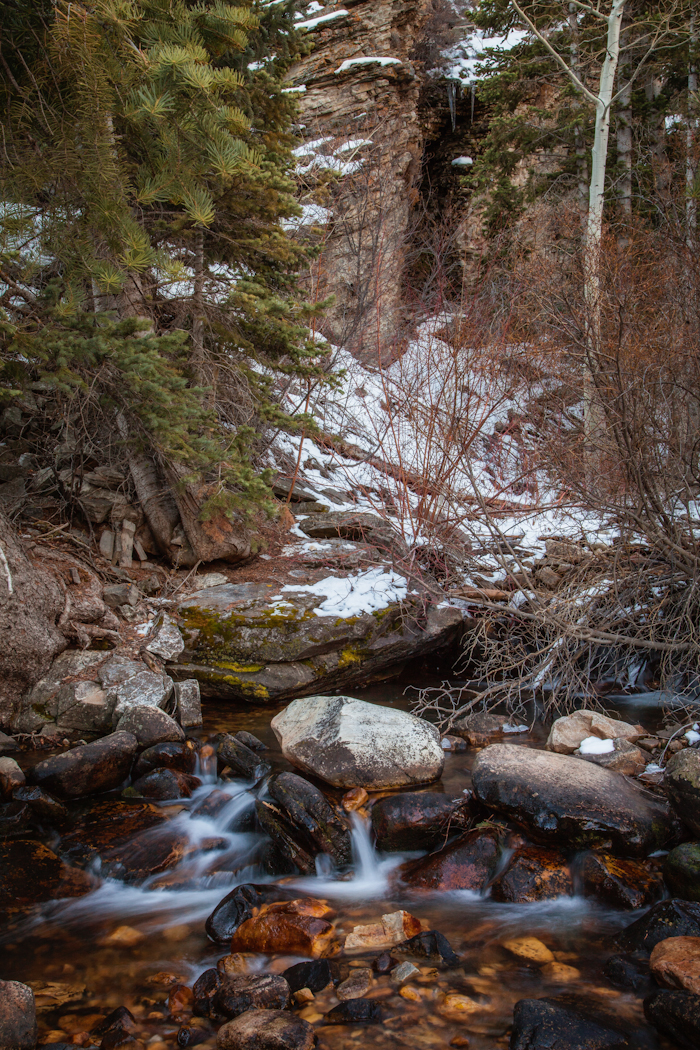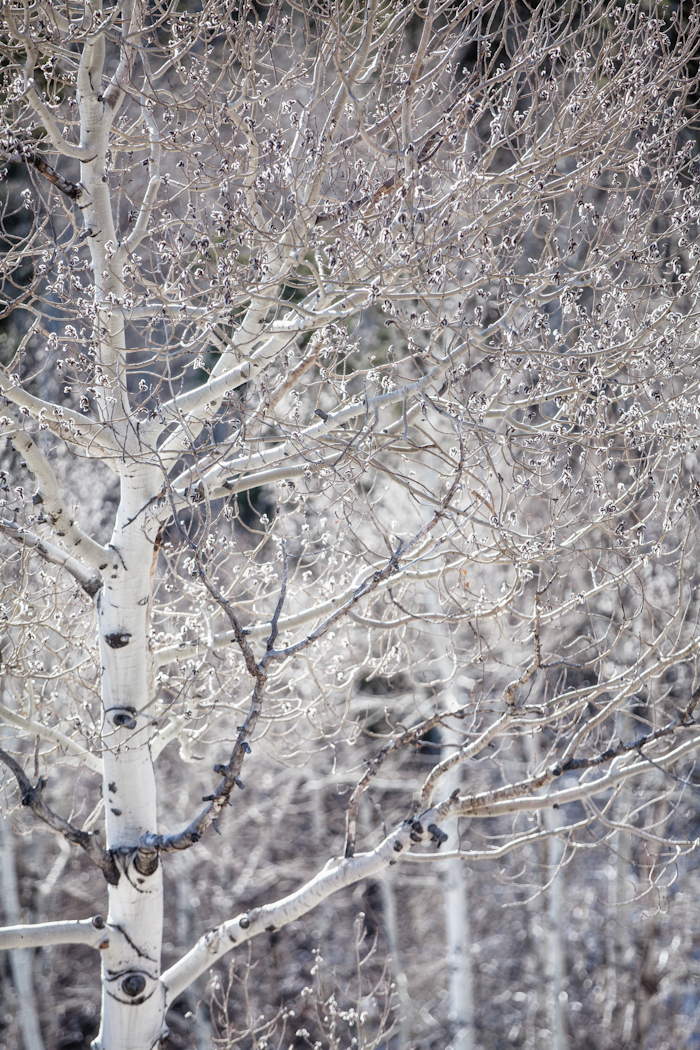 I explored around the park at bit more to kill a few hours, drove down a long gravel road, photographed some scenery and arrived back at the visitor center shortly after it opened at 8am. Since there wasn't that much to do, I requested to change my 1:00pm cave tour to the 9:30 group but apparently, in this seemingly empty park with few people about, all tours had been sold out. The ranger advised me to head towards Ely, NV and check out some of the other parks and heritage areas along the way.
I didn't photograph too much of the drive but the scenery and town were fun to see. Ely is a small mining town with run-down, old-fashioned casinos and motels. The older downtown area could easily be a movie set. There were some state parks and preserve areas along the road that were nice to explore a little too. Finally, it was time to head back to take the 90-minute Lehman Cave tour.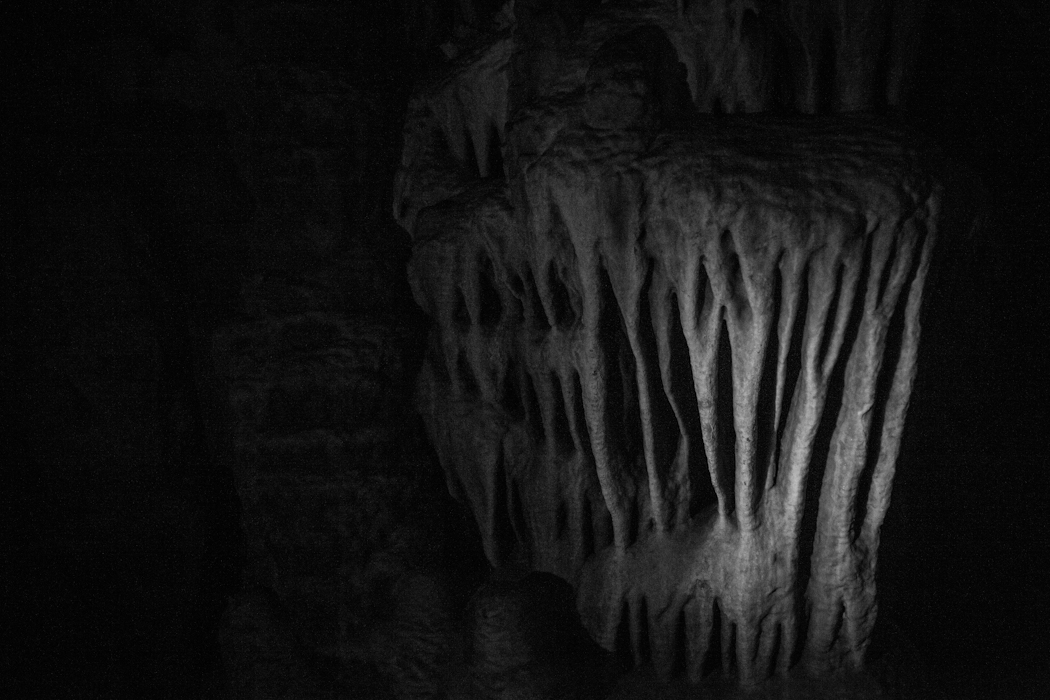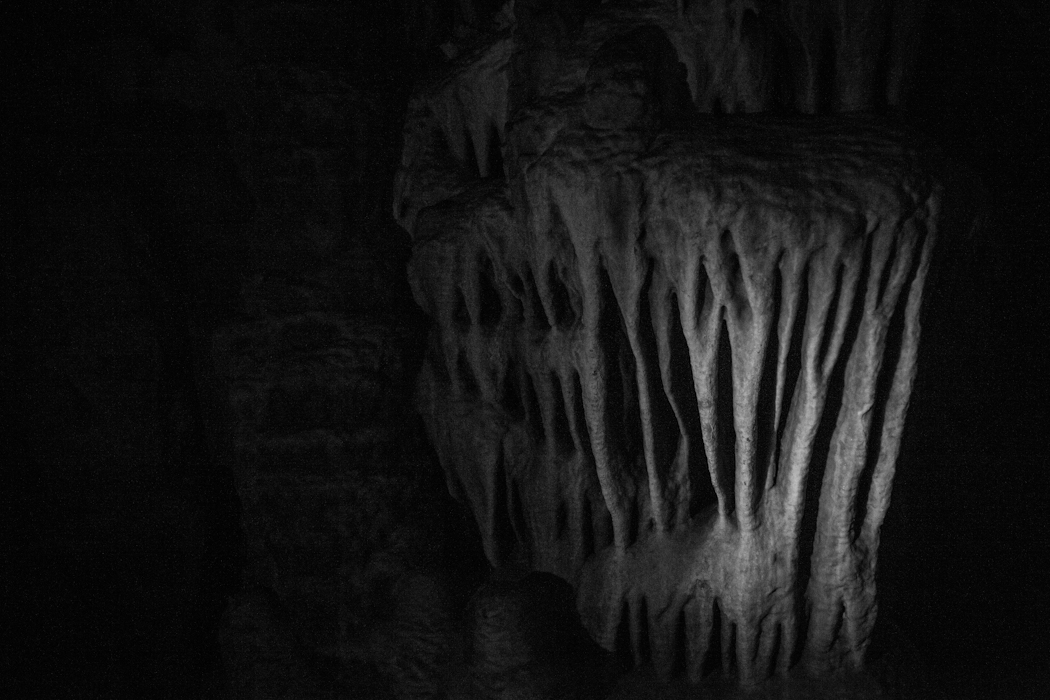 On the way back to Cedar City, I had to stop and take a photo with the "Welcome to Utah" sign. It truly is one of my favorite states; I can't get enough of it. I also got to see some antelope cross the road in front of me and then flee into the open grasses as I got closer. I was able to capture one or two shots of the small herd as they ran away. Unfortunately, I saw much more roadkill than wildlife. I guess because of the open ranges and empty road with high speed limits, there's a big problem with farm animals decaying on the roadside, especially horses. I saw at least 6 large animals, some so badly decomposing they weren't identifiable, as I drove back. It was a pretty sad sight.
As I got closer to I-15 I noticed some signs directing to petroglyphs. I wasn't going to stop but since it was only a few mile detour I decided to go for it. In the past when places boasted of petroglyphs, I have only seen a couple and usually they are far away from where you stand to view them. Man, am I glad I stopped! They were EVERYWHERE! In the Parowan Gap, it was like playing Where is Waldo trying to search for all of the petroglyphs. In many areas you could walk up to them and touch the carved indentations in the stone. It was absolutely amazing to see and there were informative signs telling historical details of the area and the people as well as the interpreted meanings of many symbols. It was such a great surprise to end the long day.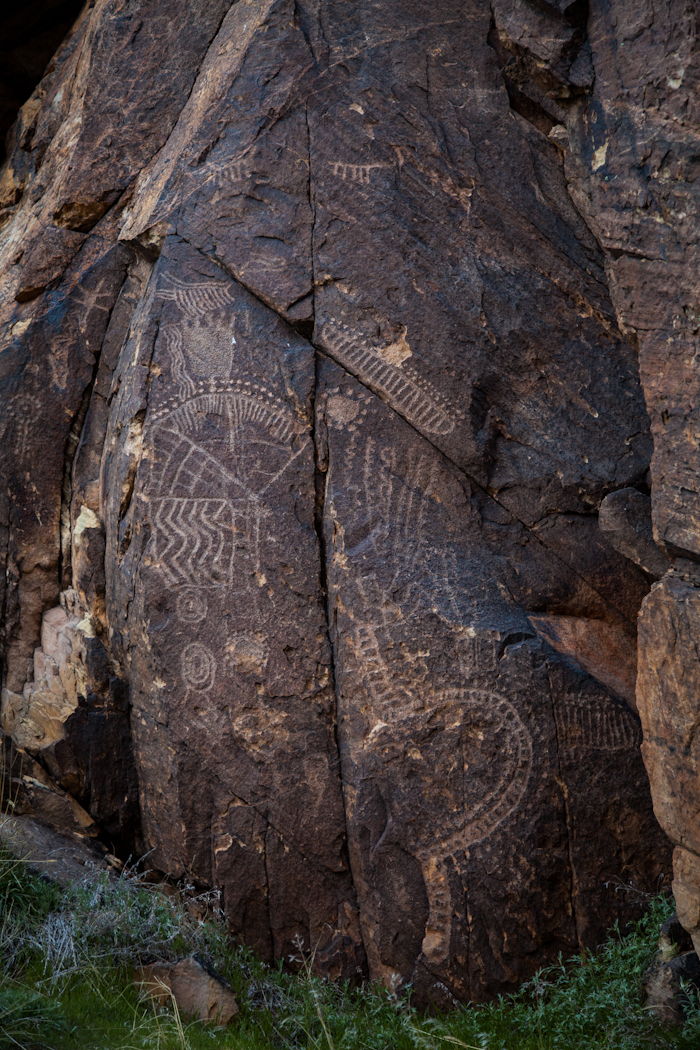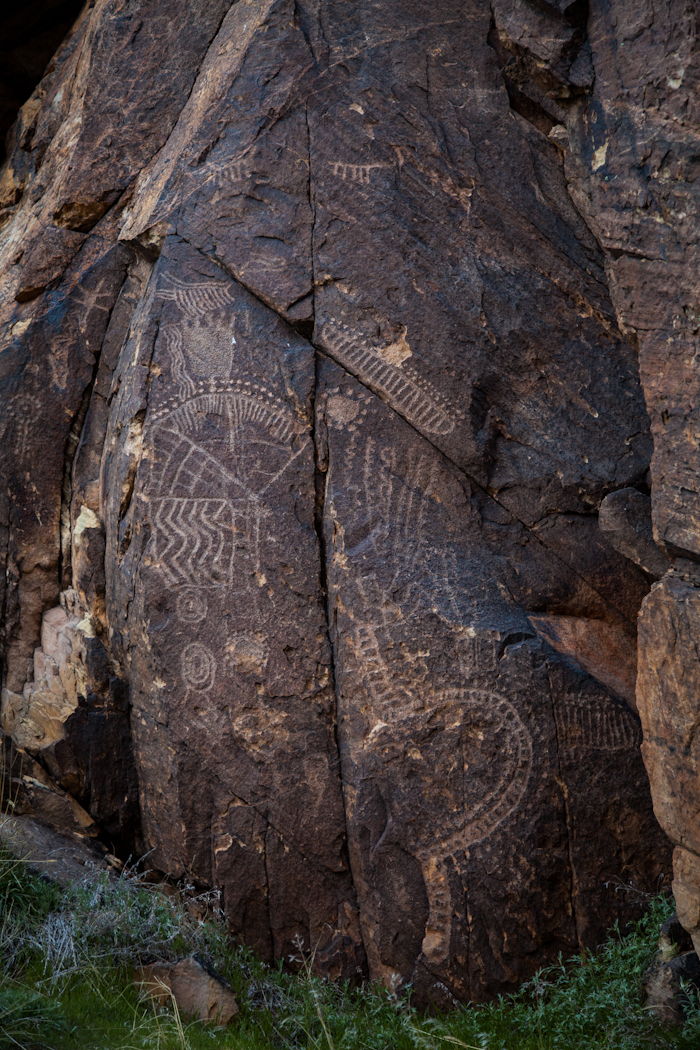 Day 2 - Utah & Arizona
Sunday morning I rose bright and early again. I wanted to catch part of the sunrise before rushing over to Zion Adventure Company when they opened at 7:00am, before they ran out of wet gear to hike the Narrows. I waited in line, got waders, water shoes and a dry top, tried everything on and waited back in line to pay. Just as I approached the register, someone rushed over and said there were reports that the Narrows were closed and we needed to wait for confirmation. Sure enough, because of the warm weather and snow melt, the water levels were too high and strong with increased risk of flash flooding. After several people died in slot canyons in Zion last year, they certainly weren't taking any risks on visitors' safety. It was quite a disappointment as the forecast for the following week and weekend were for multiple rain showers and I knew that it was likely they would remain closed.
I photographed around Zion a bit more and decided to hit the road and try to find the Paria Wilderness Area of Grand Staircase Escalante National Monument. A friend shared an article with me of the colorful mountains in Paria and I was finally able to figure out approximately where it was located.
After driving on Route 89 for a while, I finally saw signs and turned into the entrance and down a dirt road. The road was rough with big tire ditches, large rocks and bumpy tread. My poor Pontiac Vibe, I was so nervous for it. Eventually I saw the colorful mountains in the distance and decided to keep going. Paria is also an old ghost town that was later used as movie set. I followed the winding, bumpy, dirt road and went down some pretty steep hills. Finally, I reached the fork in the road that when taken to the right leads to the ghost town. Only one problem, there was no way I was making the turn over a large, steep bump without a high-profile, four-wheel-drive vehicle. Happy I had even made it that far, I was ready to turn around and head back, with fingers crossed that I could make it back up the steep inclines. I think the car and I both let out a huge sigh of relief when we made it back to the entrance area.
So….now what? I kept heading down 89 and went to the Lake Powell area of Glen Canyon National Recreation Area. It was pretty but a very touristy, water-sport and boating spot. So, I took in the scene for a bit and then headed on to Page, Arizona.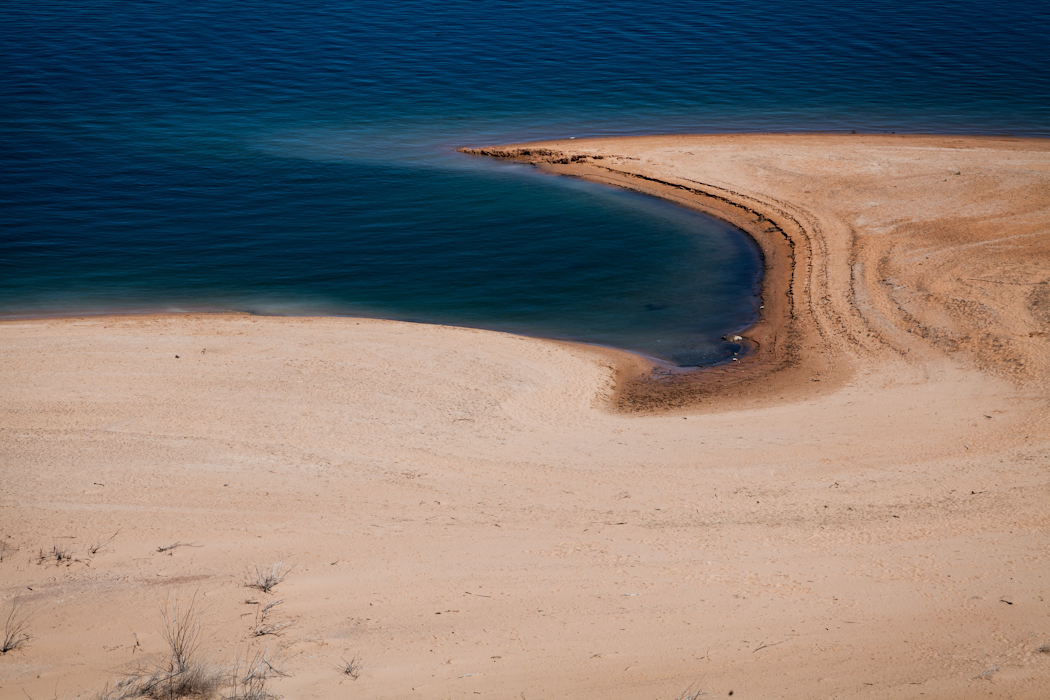 Once in Page, I figured I'd take a chance and see if I could join any tours of Antelope Canyon. Not really knowing where I was going, I pulled into the parking lot of the first tour company I saw. As I parked and ran in, there were caravans taking off. I asked if there were any open spots on tours for later in the day and was told I could get on one right now. Jaw dropped, I told him I needed to run back to my car first. I put my camera together and grabbed extra cards, threw my flip flops off and put on my hiking shoes, grabbed a water, keys and anything else I could think of and ran after the last caravan that was waiting for me with my hiking boots still undone and shoelaces dragging on the ground.
The tour of Antelope Canyon was filled with multiple tour groups, they herded us through different sections one group at a time and it was all very rushed. However, it was absolutely gorgeous. The air in the canyon was a nice, cool escape from the hot desert sun. The sandstone walls filled with color. The light falling from the narrow openings above gave a soft, calming glow. What I would have given for a few moments to myself to soak in the quiet, serene canyon! It was an amazing place and I'm so happy for the unexpected addition to my trip.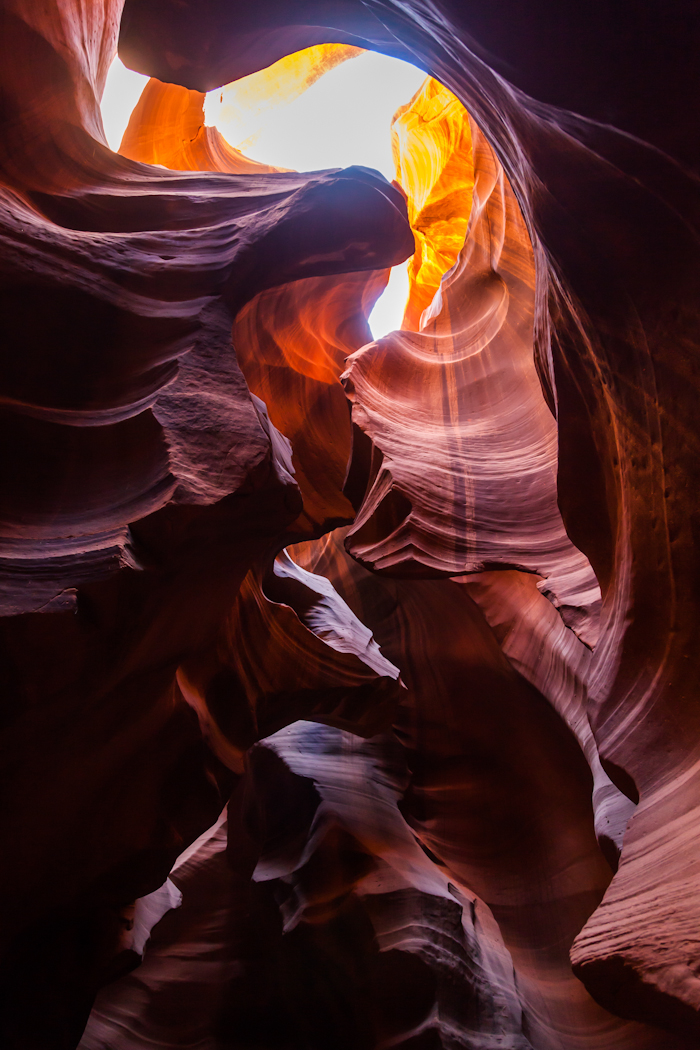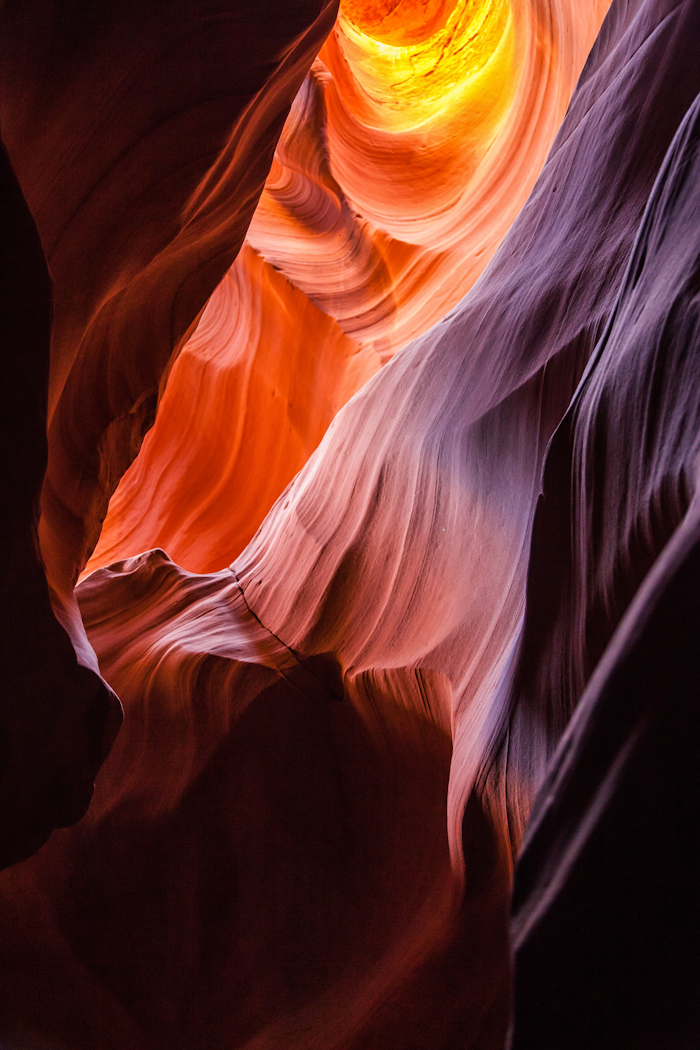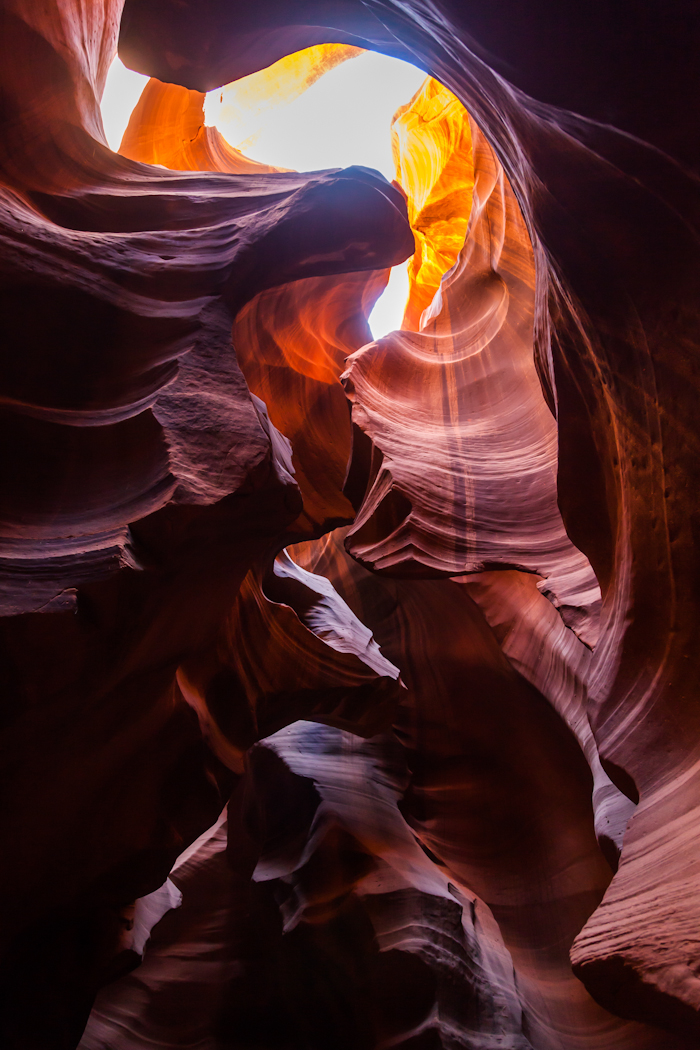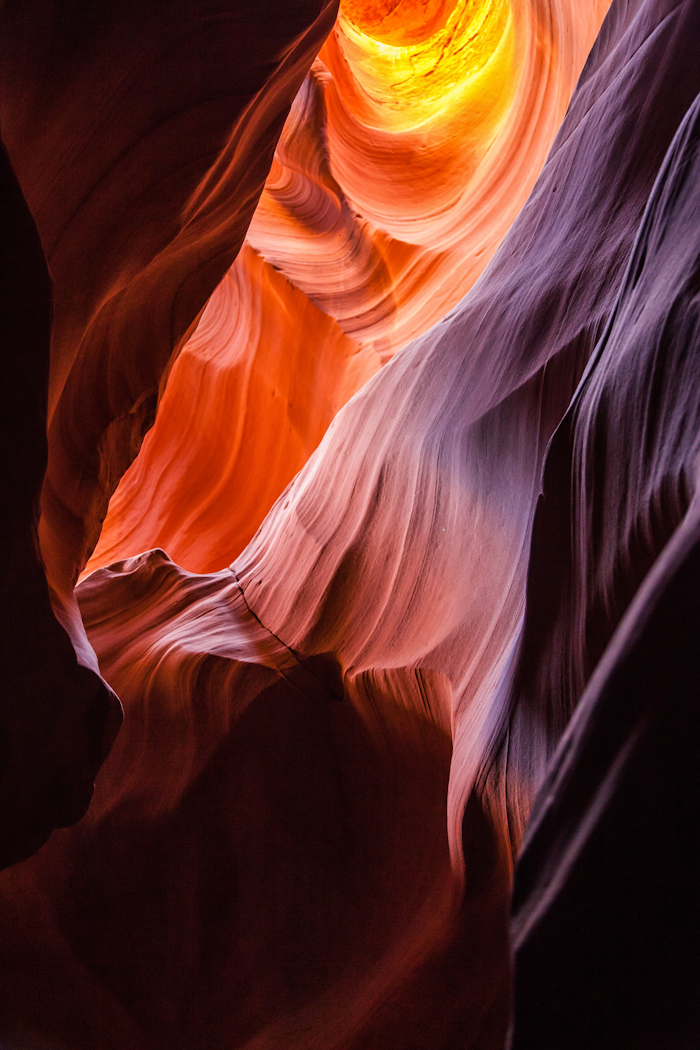 After the tour, I scarfed down some lunch and drove a few minutes to the Horseshoe Bend area of the Grand Canyon. It was not a great time of day for lighting but I decided it would be better to start the 3.5 hour drive back to Cedar City earlier rather than wait around for sunset.
It seemed like the bend would be just over the sandy hill in front of me, so I quickly threw on some suntan lotion, grabbed my backpack and tripod and headed towards the bend. Once over the hill, I saw it was actually quite a bit of a walk further and I immediately regretted leaving my water in the car. I finally made it down to the bend. Took a couple photographs and eventually found a good way to hide the obnoxious sun glare that was hitting part of the river. By the time I got back to the car, I was overheated from the strong, blaring sun and chugged my water like I hadn't had any all day. As I made my way back towards Utah, the migraine started to set in...and it would last for a couple of days. Hiking lessons learned - always take care of your body first and always bring water, no matter how short of a walk you think it may be!