Colorful Colorado
I arrived in Estes Park, CO - right outside of Rocky Mountain National Park - around noon. I promptly parked to walk through the mountain town's cute, touristy, downtown area and grab a much-needed bite to eat. Scarfing down my food, as an event photographer is properly trained to do, I finished quickly and headed into the park.
Mid-afternoon isn't typically an ideal time for landscape photography but the cloud-filled sky cast dramatic lighting on the mountains, trees and fields below. As the wind picked up, you could see snow blowing among the highest peaks.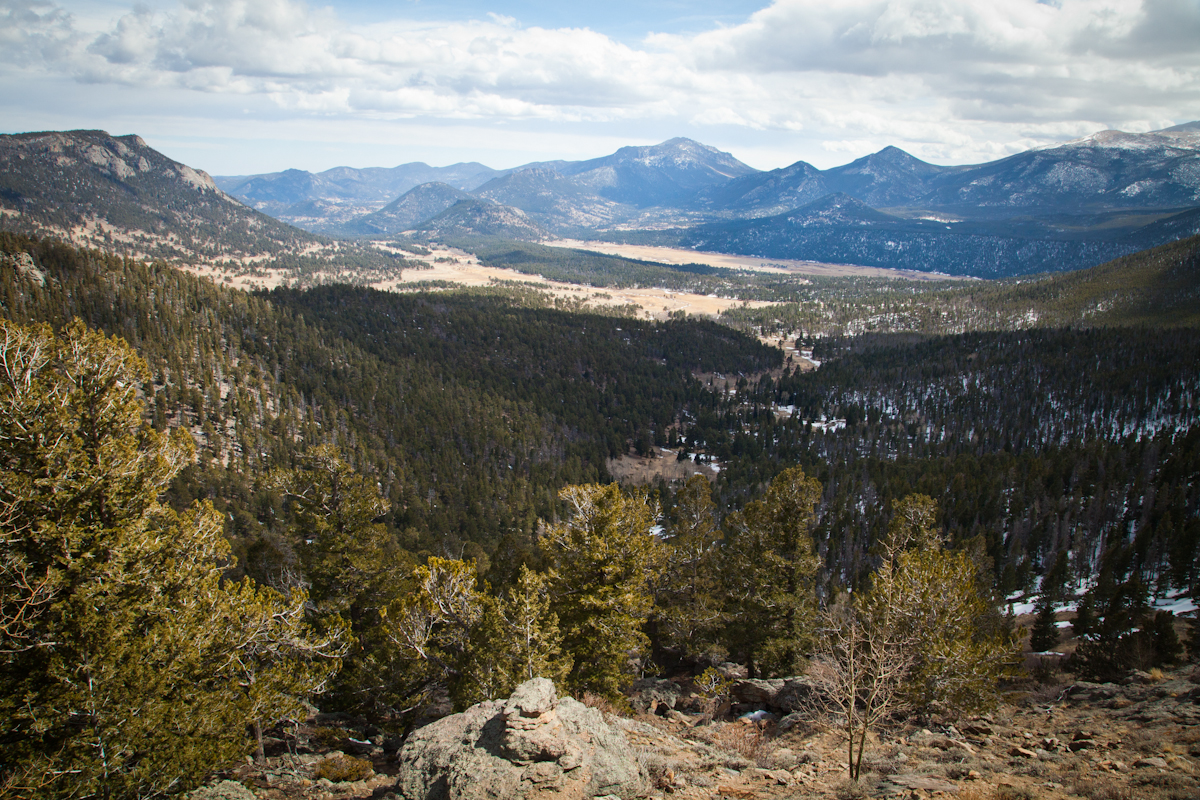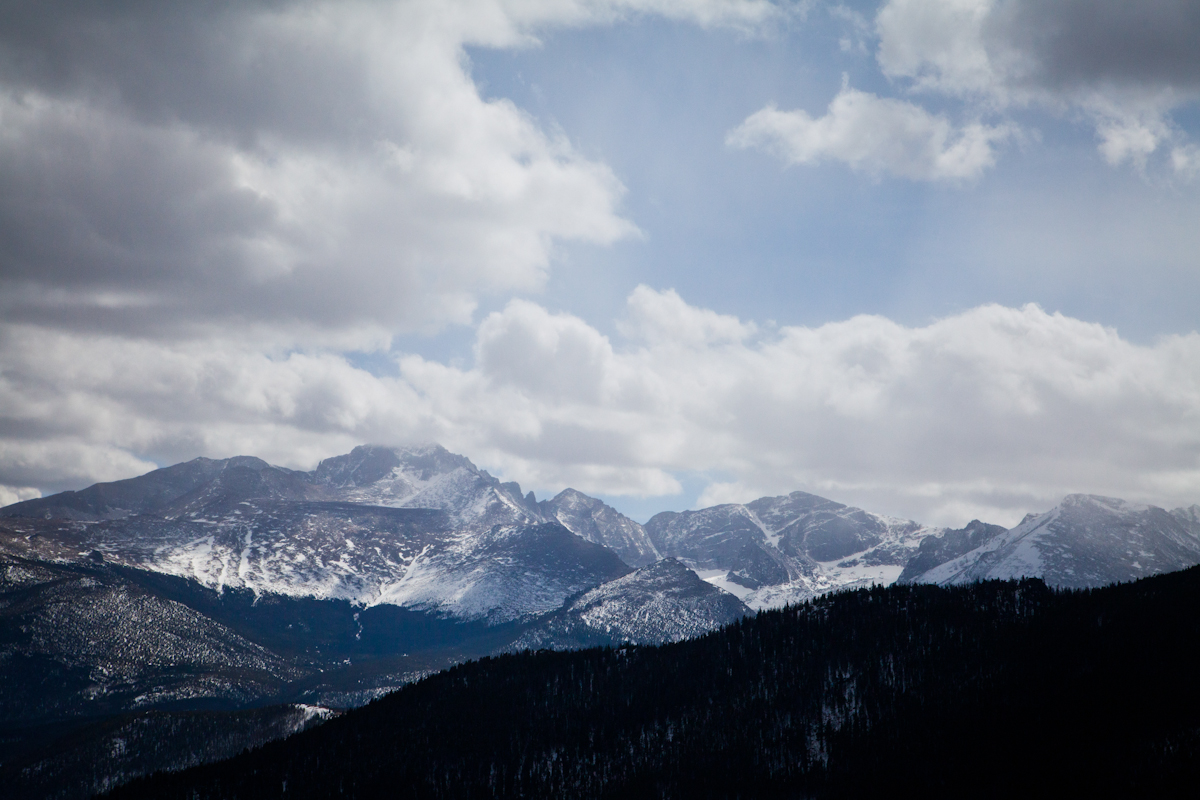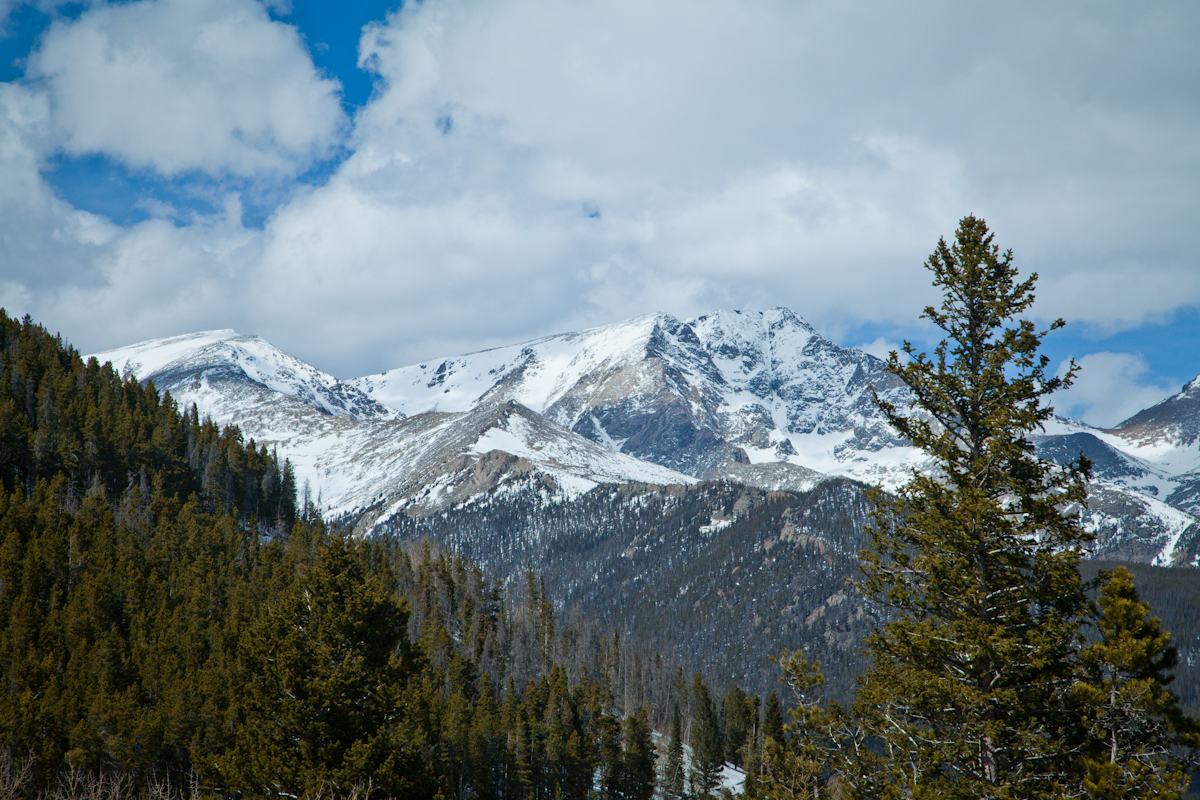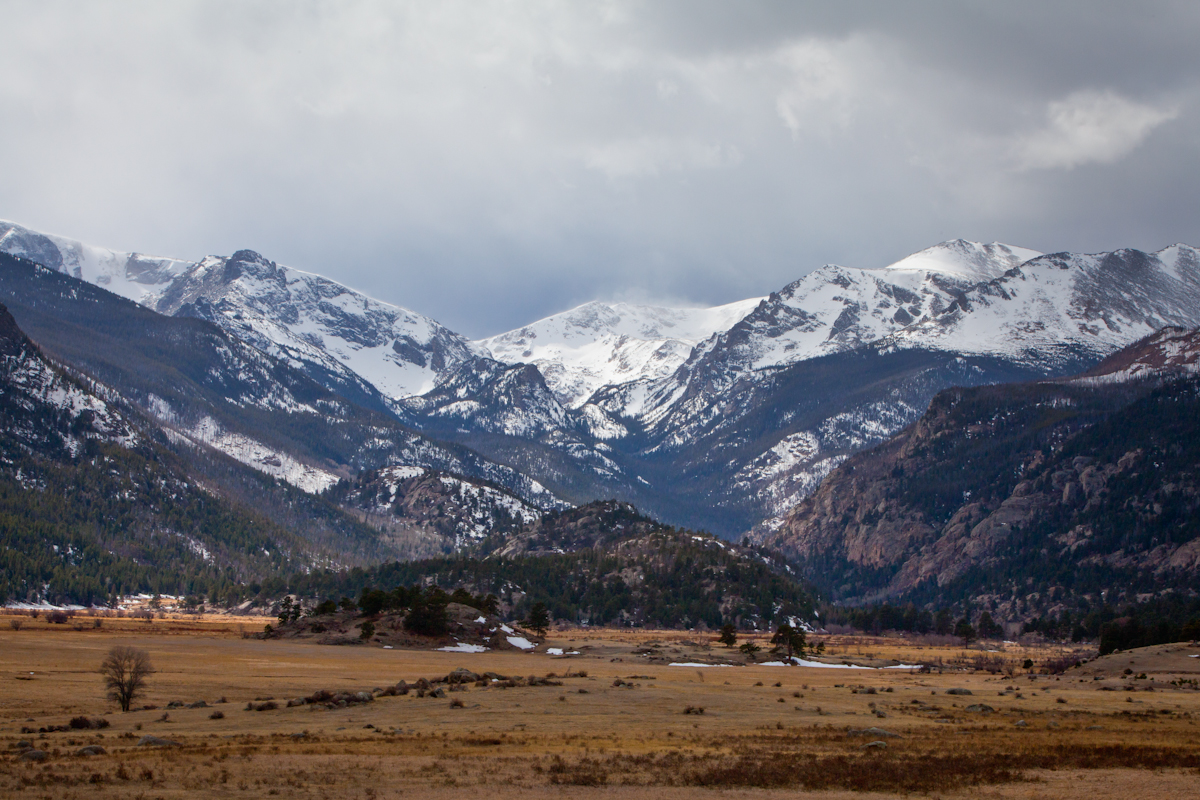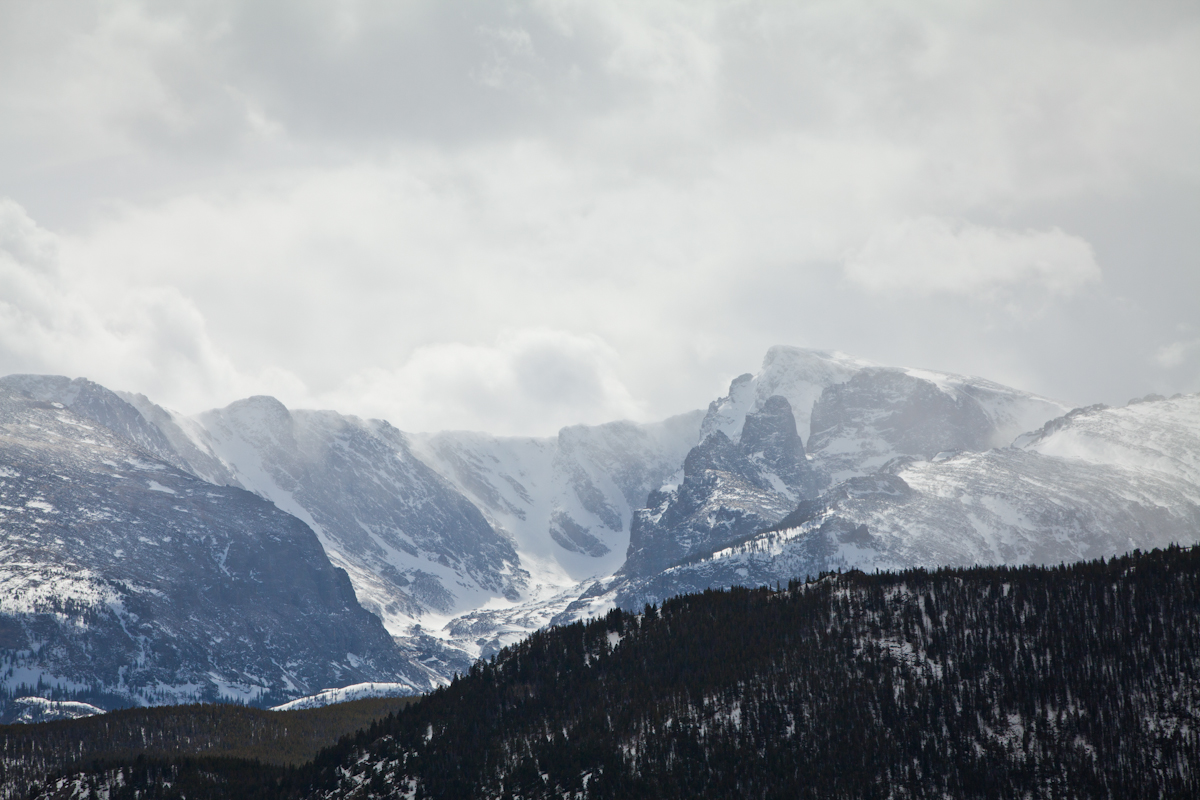 During my walk around frozen Sprague Lake, the air sparkled with flurries of snow coming off of the mountains. It amazed me how many people were walking through the middle of the lake, especially since along the edges areas had visibly thawed. It did, however, provide a really amazing photographic opportunity. I didn't venture across. I guess I've heard too many horror stories of ice cracking and people getting trapped underneath...and I don't deal well with cold air, much less arctic waters. Normally I make an effort to go all-in but on this one, I was okay staying on the sidelines.
On the way out of the park, I drove upon a line of parked cars on both sides of the road; I pulled over and found they were watching a herd of elk up on a hill. I grabbed the camera and walked part-way up, maintaining a safe and respectful distance, to capture the amazing scene. There were dozens and dozens of elk grazing, many of them tagged, and for the most part, not caring a bit about all of us.


During my week in Denver, I got to explore a bit, spend time with friends and see a few sites. Red Rocks Park and Amphitheater was an amazing place to experience! The scenery is spectacular including the view of downtown Denver in the distance. I got to stand on the stage where so many legends have stood before. It is clearly a phenomenal space to enjoy a concert and after this trip it is definitely a must on my bucket list.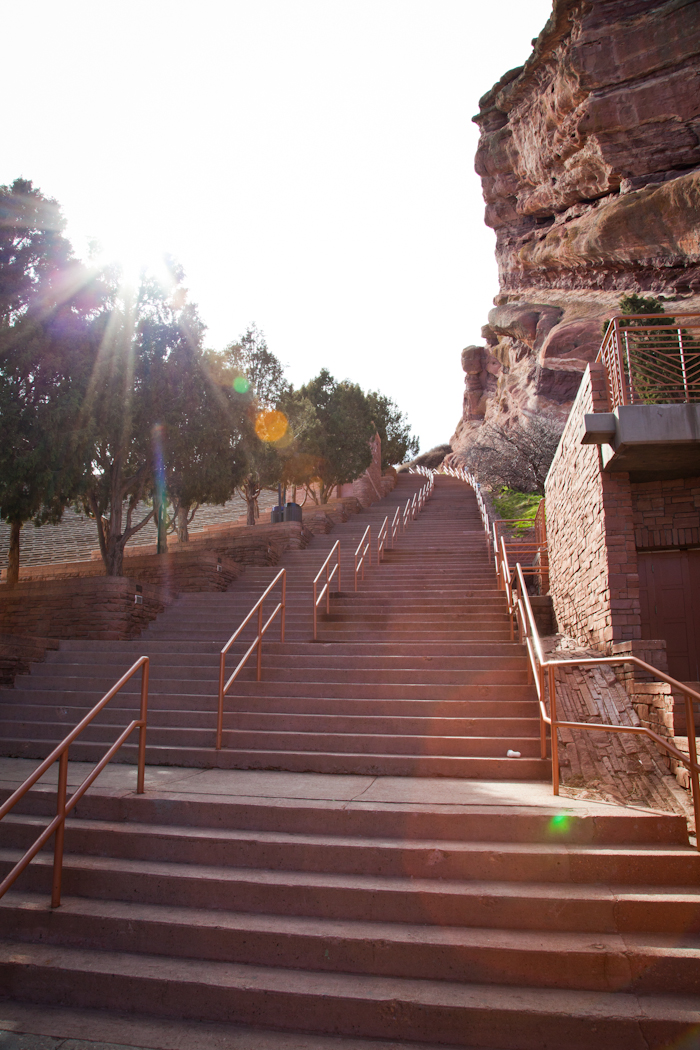 I also thoroughly enjoyed downtown Boulder, CO. One evening, after driving up Flagstaff Mountain Rd and photographing what little sunset there was with a storm coming through the west side of the mountains, I ventured my way into Boulder and walked around absorbing the scene. If you want to know a bit more about the scene in Boulder, read this: http://www.mensjournal.com/travel/cities/is-everything-better-in-boulder-colorado-best-places-to-live-20160307
I made the hour and half drive over to Rocky Mountain National Park once more during my stay in Denver. It was a cold, snowy day in the mountains. This time, I was greeted by a herd of elk at the Beaver Meadows park entrance. Even though, again, there wasn't much of a sunset with the overcast, snowy sky, I had fun photographing the mountains and a frozen stream. I also lucked out when I spotted a few elk, untagged, and away from the big herd and other people. Being able to photograph them much closer and isolate them in their surroundings provided an opportunity for much better photographs. The wind picked up and snow blew harder as the elk continued to graze and I think I was able to capture some amazing shots.
Before leaving the park, I went to explore one more road that I had been down the other day. I passed a sign that warned of winter driving conditions but figured it was the same dusty snow as everywhere else. Boy, was I wrong! Within a half mile and almost no elevation change, somehow the road went from perfectly clear to snow-packed. I pulled onto the road for Sprague Lake again which was completely deserted this time of day and in these conditions. I snapped a couple last photos and went to head back. My ABS was kicking in hard and I had to slow down to 5pmh around the mountain curves until I made it back to where the road was clear. I was definitely relieved once I made it through that area. My mind was going wild with worst-case scenarios in a post-sunset, empty park, but now I could breathe again.
I got snowed into Denver a day longer than planned. The six or so inches that fell over a 24-hour period quickly melted on Friday afternoon and I was able to take-off Saturday morning free and clear. Or so I thought….
Up next, the drive to Utah and exploring spectacular Moab!

 
Denver Credits:
First and foremost, a HUGE thank you to Stefanie and Ben for taking me in and being amazing hosts!
Another big thank you to my photog buddy Cory for giving me local photography tips!
Work & Class
http://workandclassdenver.com/
Tasty & creative shareable dishes and tons of gluten free options.
Absolutely delicious!
Gluten Free Things
Gluten free bakery with some of the best GF bread I've ever had.
Also, really tasty GF graham crackers in assorted varieties.
Friendly, knowledgable and caring staff.
Also dairy free I believe.
Beau Jo's
Really good gluten free pizza.
Panzano
http://www.panzano-denver.com/
AMAZING cuisine
GF bread!
Knowledgeable staff
Scrumptious
"It's all good."
http://scrumptiousco.com/
Creamy home-made ice cream including unique flavors such as Whiskey Vanilla.
Large selection of unique and old fashioned candies.